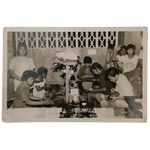 Netos Footwear 71' - Moalong • Loon Bohol
NITOS was originally founded in 1965 in Bohol, Philippines by our grandparents under the name Netos Footwear, manufacturing polos, dresses, shorts, tee shirts, shoes, and many types of sublimated garments. As a close knit family owned company, they went as far as sailing across islands to deliver goods.
Proud Brands Powered by NITOS.


Wholesale Desk Mat Blanks and Customized Printing
We are now Proudly Offering Wholesale Printing on Different Sizes of Desk Mats
Wholesale Skateboard Blanks and Customized Printing
Our Core Focus is to Provide Our Clients the Most Value for their Customers. Skateboards has Become the Next Big Trend in Displaying Your Art on Walls. We are Proudly Offering Wholesale Printing on Hard Maple Skate Decks.
Nanashi & Nanako: Original Characters Developed and Realized by NITOS
Our twins Nanashi and Nanako are Original Characters developed and conceived through our experience in the Anime Community.
NITOS Graphics Solutions Successful Development of Premium High Grade Print Vinyl
NITOS Graphic Solutions, Our Premium Signage Supply Deparment has been in Research in Development for almost 5 years looking to create the best quality material for the art graphics market, and was able to do so with their new PLATINUM FLEX Holographic Film.
OMAJU, pre-pandemic has been at the forefront of developing premium facemasks, ultimately tackling a market that was severely lacking
Throughout it's conception, our subsidiary OMAJU has been developing high quality facemasks which has, at the time of 2018, not yet been seen in the market. About a year before the COVID-19 Incident swept the entire world, we had released our final version of the masks. Through fate of chance, it was now our opportunity to truly shine. We did not take this opportunity lightly as we ramped up production earning our market share as well as donated to our local hospitals in need. As we worked tirelessly trying to keep up with the demand, we aimed to make a name for ourselves. Transitioning out of the pandemic, our brand still stands strong as the #1 source for high quality facemasks.
Wholesale options available with a solid Market Advertised Price Policy. Feel confident selling our products with a premium label in mind.